As usual, the playground was very busy this week.  The children were determined to roll over the large fallen tree in the playground.  There were some branch remnants that made it very difficult, but they called over more and more friends until they were finally able to roll it as a team.  They were pretty excited at their accomplishment!  When they decided to do it again, we determined that not only did the branch parts make it harder, but they were unsafe, so we brought out a saw and the children took turns helping to saw them off (under very close supervision).   They really enjoyed using their muscles to cut through the wood.
Sleds are good for lots of things . . .
For Monday art the children were introduced to still life paintings.  They used matching colors to create their own still life art of apples, gourds, squash, and a pomegranate.  Throughout the week many of the children worked with Casey to paint their own still life works.  Last week the children were introduced to giving their work a title, and that continued this week.  There were some pretty fantastic and descriptive titles, including "Fruity Fruit," "Pomegranate," "Halloween Fruit," "Apple Face," "Silly Apple," "Fruit Salad," and "A Yellow Apple."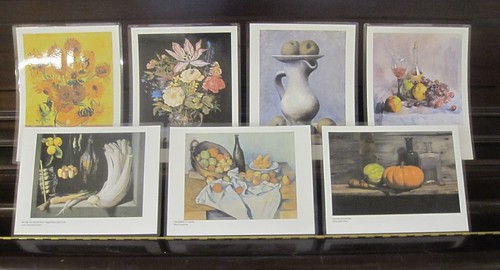 Santa's Village dropped off some pumpkins on Monday for an art project we will be doing next week. The children helped unload the pumpkins then bring them inside. The next afternoon students helped bring them back outside to be spray painted white to prepare them to become calaveras.

The dramatic play area has been transformed into a Doctor's Office, and the class physicians have been very busy caring for both their human and animal patients.  A lot of immunizations have been administered, broken bones bandaged, and routine check-ups given.  It was a very busy office and we are all now quite healthy and well immunized.

The sensory table was filled with sand, which was quite a popular activity.  It can be rather calming pouring, scooping, and sifting, and many children gravitated toward this area day after day.

Dr. Drill and Fill was brought out to use with play dough, and the tooth brushing activity was set out. There were lots of busy dentists fixing cavities and cleaning teeth.
This week we introduced the first continent that we will be studying, the continent of North America, which is made up of 23 countries, including the United States of America, where we live.  We will focus on the countries of Mexico, Canada, and the United States, as this is a short and busy month.  We located North America on the globe and on the world map and we learned the continent song, which we will sing all throughout the year as we continue to learn about the seven continents.  We read a short book about the Seven Continents, and another about North America.
The ocean animals were traded in for the animals of North America, and the tree blocks came out. The children used them to build forests of trees and to do some logging, filling up their dump trucks and pickup trucks with logs.
During Spanish with Zeanny on Thursday the students once again practiced arriba (up) and abajo (down) with a Simon says type game.  They then learned to count to diez (ten) and learned a song about cinco Calabasas (five pumpkins).  Zeanny then introduced the children to a famous Mexican artist, Frida Kahlo, who Monday students learned about several weeks ago, and she read the story Contando Con Frida (Counting with Frida).   Zeanny left little coloring counting books for each child to color, cut, and assemble.

We took out the parachute for the first time this year on Thursday and played several games. We sang "Ring Around the Rosie" several times, then took turns running under and trading places with a classmate when our names were called.  The favorite game, though, was "Great White Shark," where the children take turns being the shark who swims around in the ocean under the parachute and when it "eats" a child, that child then goes under and becomes the shark while the other comes out and trades places.
We had our first rainy day recess of the year on Thursday as well!  The children enjoyed playing with activities that are typically saved for rainy day recess, so they really had fun using a variety of new items, including KNEX, toobers and zots, magnatiles, bristle blocks, reptangles, and playmobile people and animals.
Friday students had a down day with Tammy while Lyn had a chance to chat with families during family conferences.  They pulled out the magnatiles and bristle blocks and were busy building and constructing quietly together.  It was a nice break at the end of a busy week.

The stories we read this week: